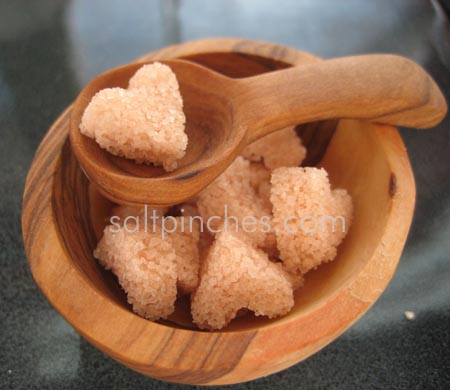 Pink Salt Pinches (from the Andes Mountains) with *hand carved miniature salt pots & spoons
Inspired from our confetti sugar, we have finally created our salt pinches. Say goodbye to the salt shaker and grinder.
Your guests will love this idea! Simply take hold of one of the charming little shapes and lightly pinch as you wave your hand over your food. It's that easy! Need more salt...take another, repeat!
The shapes are quite tiny at approximately a 1/4" in diameter.
We have also special order these tiny salt pots made from olive wood. They are hand made and fair trade*(see below for more details) from fallen or found wood. They are approximately 1.5" high and 2" in diameter and each one comes with it's own carved spoon.
Choose from the salt pinches, the salt pots or salt pinches in a pot (15 pinches come with each pot)
This makes for an extra special gift for your guests if you were thinking of sending them home with something special.