Monogrammed Pastel Sucre Moulé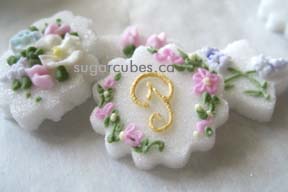 Carefully shaped sugar pieces are then decorated
in soft pastel floral designs.
Monograms make up half of your order for example, if you order
36 pieces, 18 will be with a monogram.
Choose between silver or gold monogram. Or if you
prefer another shade completely, just send us a note,
happy to match whatever shade/tone you'd like!
36 for $135
100 for $325
Made to order so feel free to let us know another preferred color either by adding it to your order notes or by email.